While the "escape to the country" story dominated the UK property market after the first national lockdown, the trend has evolved. 
In the six months following the first UK lockdown in March 2020, demand for UK property underwent a notable change as buyers looked for more space.
The three areas of England and Wales that experienced the biggest increase in the number of properties that went under offer over that time were North Devon, Ribble Valley and Derbyshire Dales, OnTheMarket data shows.
All three local authorities have the type of greenery and outdoor space that buyers were looking for.
However, the situation has evolved. The largest increases in the six months to March this year have taken place in the London borough of Brent, Wrexham and Hartlepool. Local authorities including Dartford and South Tyneside make up the top ten, as the tables below show.
"The search for space is far from over but the trend has a more urban flavour now," said Tom Bill, head of UK residential research at Knight Frank. "After an initial spike in demand for rural locations following the first national lockdown, the appeal of towns and cities is growing as buyers plan for life after lockdown and some attempt to capture the best of both worlds."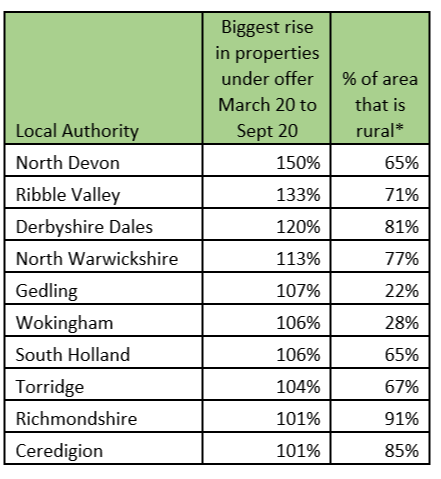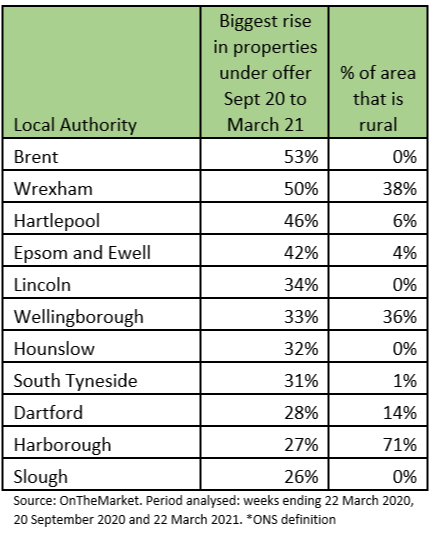 The average percentage of the top ten areas that is rural fell to 15% from 65% between the two periods. The Office for National Statistics definitions of urban and rural can be found here.
While the initial widespread exuberance of the escape to the country trend has died down, it would be wrong to say it is coming to an end. It has instead evolved over the course of three national lockdowns
In the year to March 2021, the number of properties under offer in North Devon increased by 119%. Indeed, four of the ten areas that saw the biggest increase in the six months to September were also in the top ten in the year to March, including North Devon.
However, to underline how the picture has become more mixed, the biggest rise in the year to March was in Bracknell Forest in Berkshire (125%), a local authority between Reading and London that is only 7% rural.
The appeal of the capital is also on the rise. The percentage of London-based buyers searching for a property in the capital now stands at 49%. While the equivalent figure was 70% a year ago, it has risen from 39% last July, Knight Frank data shows.
While the trend for country and suburban living is not about to end, it is reasonable to assume the current direction of travel will continue should the vaccine roll-out remain successful and the prospect of further national lockdowns recedes.
Read the original post here.