As more buyers escape to London's suburbs, we have calculated the areas with the highest density of trees in the capital
London's leafy suburbs have become popular during the pandemic as buyers look for more space and greenery.
However one area of north-west London is leafier than the rest.
The HA7 postcode, which covers the area of Stanmore, has 85.7 trees per hectare, an analysis of data* from aerial survey company Bluesky International shows. It is the highest figure of any London postcode.
TW9, which covers the centre of Richmond and Kew Gardens is in second place, with 82 trees per hectare. In third place is NW3 (75.2), which covers Belsize Park, Hampstead and Hampstead Heath.
Average prices in some prime outer London locations have grown by more than 2% over the last six months, including Wimbledon (6%), (Dulwich (4.8%), Belsize Park (3.6%) and Richmond (2.5%), as demand has grown in London's greener suburbs during successive lockdowns. Average prices in prime central London have been flat over the same period
"We've been able to quantify just how leafy each neighbourhood of London is," said Tom Bill, head of UK residential research at Knight Frank. "After more than a year of successive lockdowns, the desire for more outdoor space is not a trend that will disappear any time soon and some property markets will benefit more than others."
Green space was an increasingly important factor for buyers even before the pandemic. London Mayor Sadiq Khan has undertaken a tree-planting campaign since he took office as part of a drive to improve air quality in the capital. Other initiatives include low emission zones and the installation of electric vehicle charging points.
Next week, the government plans to open up more outdoor settings as part of its roadmap to lift Covid-19 restrictions.
The aerial analysis also reveals the postcodes with the largest tree canopy cover as a percentage of their surface area. The leading area on that score is BR7 (42.8%), which covers Chislehurst, an area that contains the Hawkwood Estate woods.
In second place was NW3 (40.4%), followed by N6 (38%) which covers Highgate in north London, an area that contains Highgate Cemetery and Waterlow Park.
The list of the top 20 postcodes with the lowest number of trees per hectare was unsurprisingly dominated by the City of London and parts of W1.
*The National Tree Map from aerial survey company Bluesky International is a unique and comprehensive dataset of tree coverage. See link here for more details.
The below map shows the number of trees per hectare and only includes postcodes fully inside the Greater London boundary.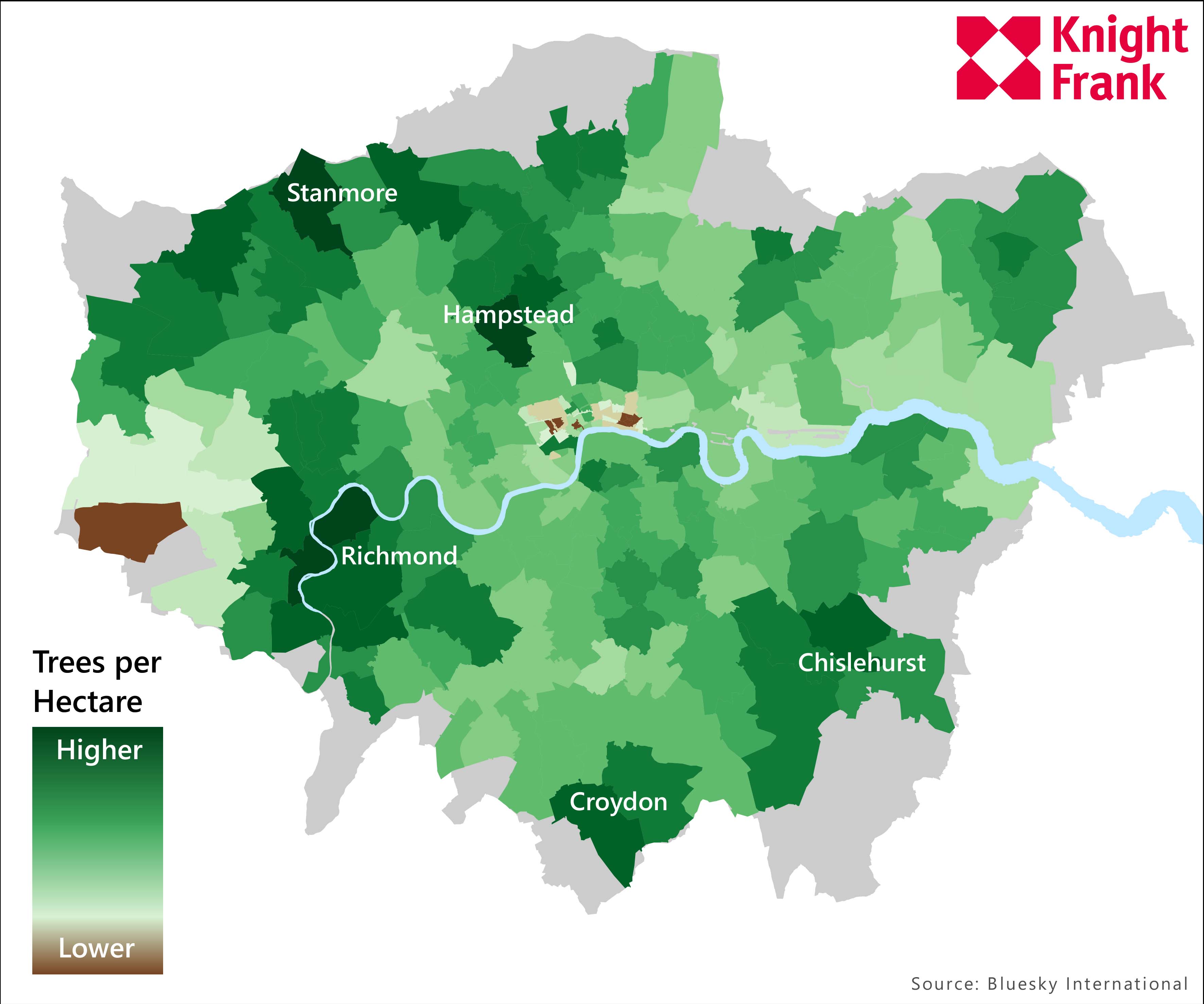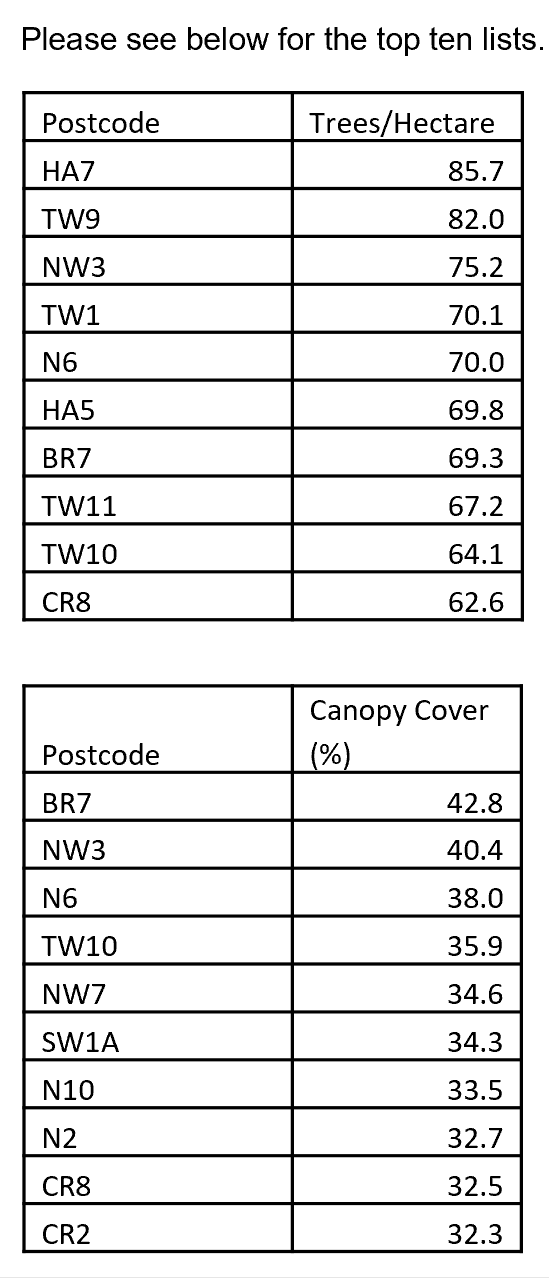 Read the original post here.