Global super-prime sales fell only marginally in 2020 despite temporary property market shutdowns and the prevalence of travel restrictions for much of the year.
The number of super-prime (US$10m+) transactions fell 1% in 2020 compared to a year earlier as market shutdowns and travel restrictions were offset by greater demand from domestic buyers reassessing their property needs. Volumes, or total spend, declined 5%.
It's fair to say those numbers surprised on the upside. Super-prime markets are often dominated by international buyers, so a largely flat market for the year demonstrates the scope to which the pandemic has caused domestic buyers to reassess their needs, often seeking out larger properties or homes closer to large, open spaces.
It is also a reminder that the world's population of ultra-high-net worth individuals (UHNWIs) swelled during the year as huge fiscal stimulus and rock-bottom rates fuelled asset prices. A fifth of UHNWIs purchased a home in 2020, according to our Attitudes Survey in The Wealth Report 2021, which quizzed more than 600 private bankers, wealth advisors and family offices across 50 countries and territories.
There was significant variation in performance depending on the location and characteristics of cities. Sales rose in nine of the 12 markets we track with buyers spending US$18.9 billion across 1,066 sales.
London took the title of largest super-prime market, with US$3.7 billion transacted across 201 sales. Out of the usual top markets, the UK capital saw transactions rise by 3%, while Hong Kong and New York saw theirs fall by 27% and 48% respectively.
Domestic buyers accounted for a third of all activity in London's £10m+ market, up from 12% a year earlier. European buyers were also more prevalent due to the relative ease with which they could reach the city.
The US real estate market is typically slow leading up to a presidential election year. In addition, New York City was one of the hardest hit major global cities in the earlier stages of the pandemic, in terms of Covid cases, and real estate showings were prohibited between March and July.
Despite the drop in sales transactions, the average sale price was up 5% year-over-year, indicating that purchasers were looking towards the higher end of the market, seeking larger homes. The overall market gained momentum post-election, continuing through the early months of 2021. Particularly, the super-prime market realised a 60% increase in sales compared to the same period in 2020. Much of that activity came from domestic buyers.
In contrast, waterfront property markets in the US stood out with super-prime transactions in Miami more than doubling to 87. Palm Beach and Los Angeles also realised expansion in their super-prime markets going from 50 to 89, and 123 to 155, respectively.
Echoing some of the best performers in the Prime International Residential Index (PIRI 100) the two Australian markets we track saw sales rise. In Sydney there were 55 transactions above US$10m in 2020, up from 46 a year earlier, and in Melbourne sales rose to 9 from six a year earlier. The Australian market is usually driven by domestic buyers, which was reinforced in 2020 – it's worth noting anecdotal evidence of Australian expats returning.
Globally the average super-prime sale stood at $17.7m for 2020, 4% below the 2019 average. However, some markets outperformed.
Geneva, at $20.1m, saw the highest average super-prime price across all markets, up 13% compared to the previous year. It was a strong year for the Swiss city across the board, with super prime sales rising 76% to 37 transactions.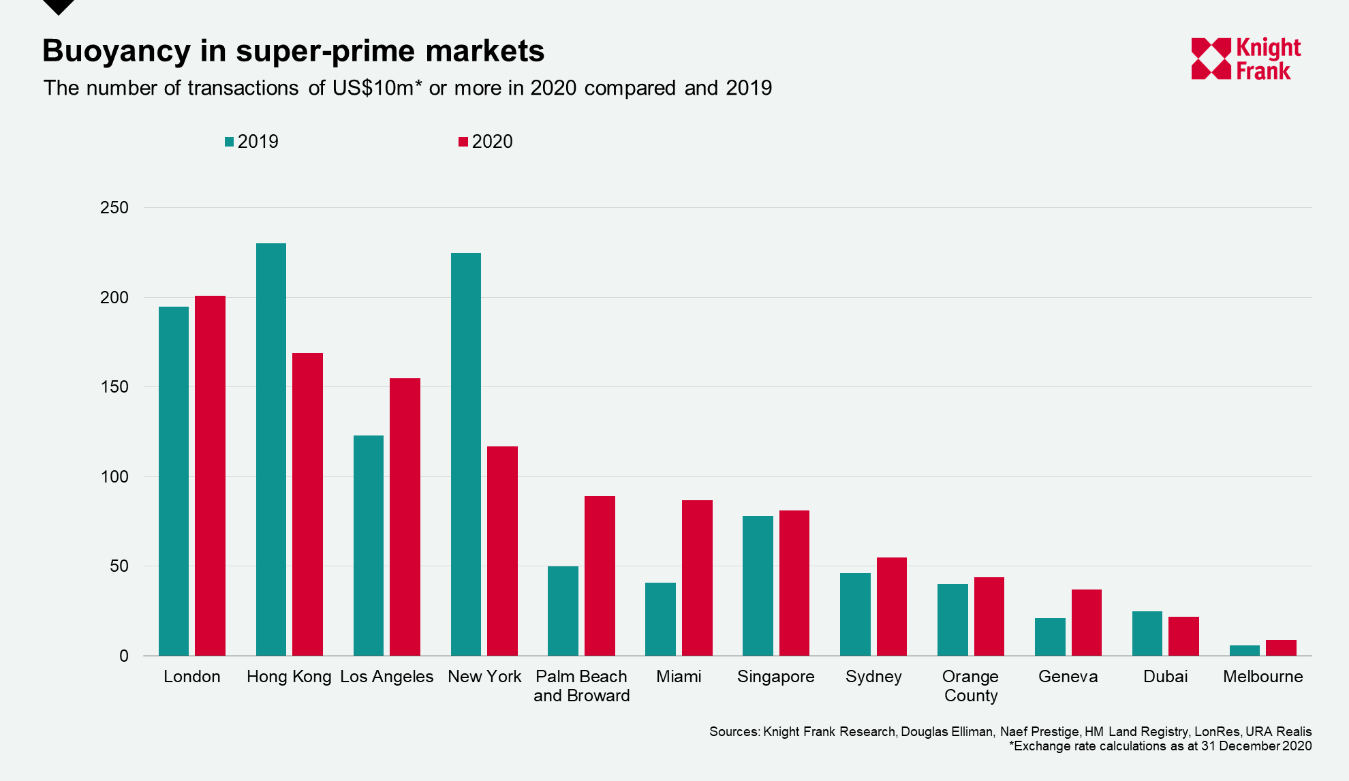 Aiming higher
The global ultra-prime (US$25m+) market was less active. Sales fell by 13% to 139 transactions in 2020, representing US$5.6 billion in sales.
London has regained the title of the largest ultra-prime market for the first time in five years, with 31 sales. Whilst this is two fewer than 2019, the total volume in this segment grew by 5%, largely due to some big sales at the top end.
Hong Kong drops into second position with 23 transactions, compared to 42 a year earlier. Los Angeles jumped to third place with 16 sales transactions totalling US$557m. New York holds in fourth for total volume with US$601m.
Singapore's ultra-prime market performance was notably strong, almost trebling to 14 from 5 in 2019. The city state saw their UHNWI population grow by 10% in 2020, as reported in The Wealth Report. Singapore's appeal has grown as a hub for asset and wealth management with the introduction of the Variable Capital Company (VCC) in January last year which is said to be a 'game-changer' for the industry.
Due to some high-ticket sales, five markets saw their average price in this market segment rise. Sydney saw the average ultra-prime sale rise to US$37.9m from US$28m in 2019. In New York the average ultra-prime price rose by 28% to US$42.9m, and in Miami by 21% to US$31.6m.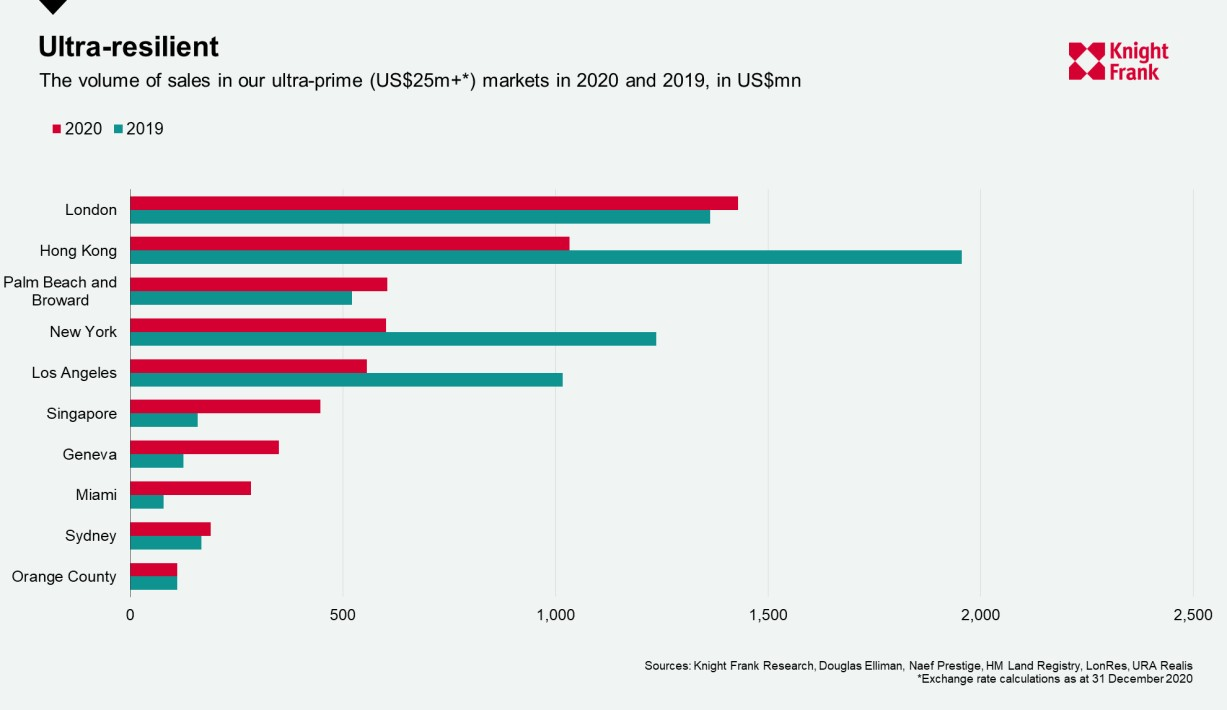 With over a quarter of UHNWIs planning to purchase a home in 2021 our research shows that coastal and resort locations will continue to be in demand although this won't be at the detriment of cities. As travel restrictions lift we expect activity to climb – see this piece on pent up demand building in London.
Read the original post here.