Prime central London lettings index: 141.0
Prime outer London lettings index: 150.7
Average rents in prime central London declined 14.3% in the year to March, continuing a pattern established over the course of the pandemic.
While supply has spiked due to the closure of the short-let market, demand has been curtailed by international travel restrictions.
There are signs that is beginning to change.
The annual decline of 14.3% in PCL suggests rental value declines are bottoming out, as the chart below shows. It was the smallest increment in the annual decline since the start of the pandemic 12 months ago, having widened from 14.1% in February.
A more significant shift took place in prime outer London. Average rents fell by 11.4% in March, which compared to 11.7% in February. It was the first time the annual decline had shrunk since February 2020.
Furthermore, demand grew faster than supply in PCL last month for the first time since November 2019, as the chart below indicates. The number of new prospective tenants increased by 167% in March compared to the same month last year. Meanwhile the number of market valuation appraisals rose by 127% over the same period.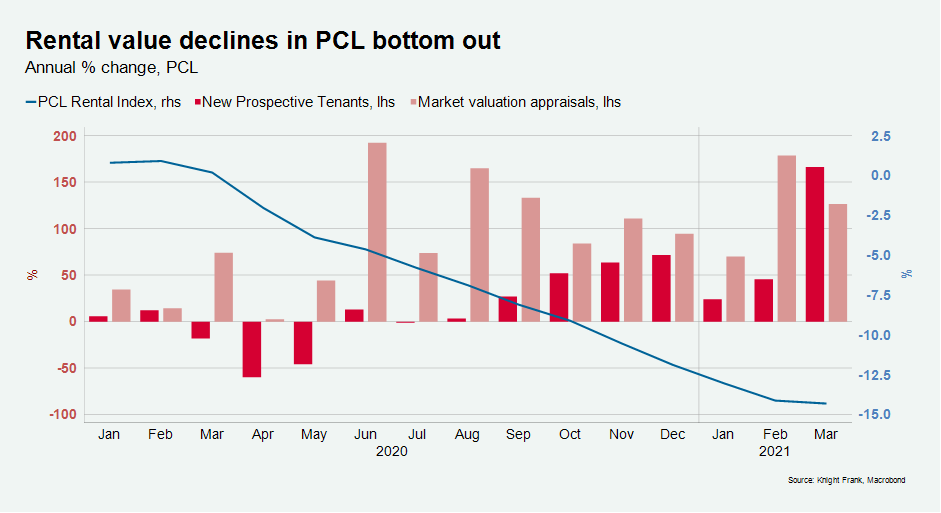 "As the UK continues to unlock the economy and people take staycations, the flood of short-let properties that came onto the long-let market will begin to recede and rental value declines will eventually reverse," said Tom Bill, head of UK residential research at Knight Frank. "Question marks remain around international travel, which affects the demand side of the equation, although rules should start to ease from next month."
The number of tenancies started remains strong. The figure across London and the Home Counties was 28.4% higher in March than the same month in 2020.
In many cases, tenants are taking advantage of falling rents to move somewhere that provides a better work/life balance, often re-locating to more central areas. The equivalent rise in the number of tenancies started in PCL was 30% over the same time period.
Read the original post here.