Making sense of the latest trends in property and economics from around the globe.
Green buildings
The importance of ESG in real estate has been widely publicised, but missing from the conversation has been clear evidence of the impact of ESG credentials on property value. No longer…
Last month, Victoria Ormond and the team revealed that corporate occupiers in central London were willing to pay between a 3% and 13% rental premium for green buildings, depending on their rating.
Taking this approach one step further new research published by Victoria's team this week revealed that prime central London office buildings with a BREEAM Excellent rating enjoy a 10.5% capital value premium compared to equivalent unrated buildings, while those with a BREEAM Very Good rating enjoy a 10.1% premium.
The analysis, contained in our latest Active Capital report, confirms this is not a UK only phenomenon. Prime office buildings in Melbourne and Sydney with a NABERS rating (a BREEAM equivalent) of 5+ enjoy a 17.9% premium. Even those with a lower NABERS rating enjoy an 8.3% premium compared to those with no rating at all.
UK house prices
Annual house price growth slowed to 10% in September, down from 11% a month earlier, according to the latest Nationwide House Price Index. That leaves values up about 13% compared to where they were at the outset of the pandemic.
The market is on a slow reversion to normality. Or as Tom Bill said last month: "Like a bad Hollywood blockbuster, the UK housing market looks like it will have a predictable finale this year after an explosive start."
We expect house price growth to close the year in single digits, though measures of household confidence on current and future price growth accelerated once more in August (see chart).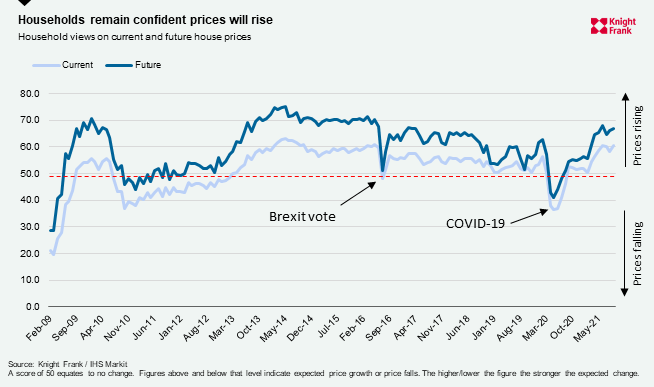 Mortgages
Mortgage approvals for house purchases fell to 74,500 in August, from 75,100 in July. That reading is the lowest since July 2020, though still well above pre-pandemic levels. Approvals for house purchase averaged 65,673 a month during 2019, for example.
Mortgage rates on the high street have continued to edge down, though the trend of banks undercutting each other that we've seen during recent months has given way to them simply matching each other, according to Simon Gammon of Knight Frank Finance. That suggests the mortgage war is beginning to peter out.
Instead we're seeing lenders loosen criteria in order to bring in new customers. After falling out of favour last year, banks are increasingly happy to use both commission and bonuses when weighing up how much they are willing to lend, which is significant for anybody that relies on either as a significant proportion of their income, like the City of London's top earners.
Zero Covid
Back in January we looked at research from Jefferies dividing the world into the two camps of Covid. There were 'eliminators' on one hand, those pushing for complete eradication of the virus before reopening, mainly East Asia, Australia, New Zealand; and then there were the 'suppressors', those seeking to reopen amid tolerable levels of immunity, such as the Americas, Europe, and the UK.
In recent months we've seen the gradual unravelling of 'Zero Covid' strategies – see New Zealand amid a shortage of workers and Australia's change of tack last month. Australian PM Scott Morrison went further this morning by announcing that bans on international travel will be lifted in November, a month ahead of schedule.
It's clear the world is coalescing around measures to live safely with the virus. Vietnam became the latest nation to abandon its zero Covid strategy after a record drop in GDP published on Wednesday.
In other news…
Evergrande misses another payment, German inflation hits 29-year high of 4.1%, global supply chains are at risk of collapse, older workers and Londoners face highest risk as furlough scheme ends, PWC plans a tech hub in Manchester and offers its US employees permanent remote work, confidence in the UK economy among business chiefs hits a 12-month low, signs of slowing growth in Asia's factories, Australia's house price boom rolls on, the scarcity of New York City rentals, and finally, interest rate futures put a one third chance of a Bank of England rate hike in November.
Read the original post here.