Prime London Lettings Index, September 2021. Prime Central London: 142.7 Prime Outer London: 153.4
The bounce back in the prime London lettings market gathered pace in September.
Average rental values rose on a quarterly basis by the largest amount in a decade in prime central (+2.8%) and prime outer London (+2.6%), as the below chart shows.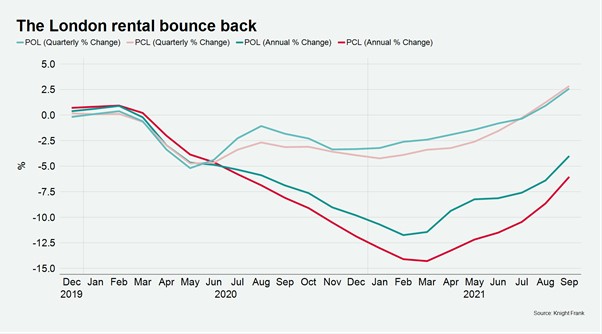 The number of tenancies started in September was also the highest monthly total in the last ten years.
We have explored how a "sprint for stock" has driven activity in the lettings market as universities return, offices re-open and overseas tenants begin to arrive in greater numbers.
As a result, the biggest increases in rents over the three months to September included Canary Wharf (+6.1%), Wapping (+5.6%), Aldgate (+7%) and Islington (+6.9%).
The number of market valuation appraisals, which is a measure of supply, fell 23% between February and September.  It was the result of owners capitalising on a resurgent sales market during the stamp duty holiday and the disappearance of short-let properties from the long-let market as staycation rules were relaxed.
Supply is so tight in some locations that prospective tenants have stayed in hotels while they look for the right property.
"With a continued lack of new properties, the volume of prospective tenants looking to rent is still very high," said Gary Hall, head of lettings at Knight Frank. "It has got to the point that some need to look at different options if they are unable to find the right property, including short-lets and longer-term hotel stays."
Demand remains strong although it calmed slightly in September as many tenants had already put plans in place ahead of the academic year. Even so, the number of new prospective tenants registering was still 56% higher than September last year.
Rental values are on track to end the year flat, as we have previously discussed.
"The increases this year mean tenants who found bargains in the depths of the pandemic may need to adjust their expectations as tenancy agreements come up for renewal," said Gary.
"Landlords who took heavy reductions last year are now looking to recoup their losses at the point of renewal with increases of 10% or more," he said.
Read the original post here.