Price growth in the Edinburgh property market looks set to maintain its momentum against the backdrop of high demand and limited supply.
Edinburgh has continued to benefit as an option for people looking for an alternative to London and other big cities, due to its scale and ease of access to the coast and countryside.
Average prices in Edinburgh grew by 2% in the third quarter, down from 2.3% in the previous three-month period. However, this was still the second-highest rate of growth in a third quarter since 2008.
The annual rate of change was 8.5% in the 12 months to September.
The Scottish capital regained its momentum quickly after the reopening of the market in June 2020 after more than two months of closure, and price inflation has been strong since. This has been due to a mix of local families looking to upsize, and the city's ongoing ability to attract new arrivals from other parts of the UK keen to make a lifestyle change.
Over the five quarters since the market reopened, property prices in Edinburgh have increased by 11%. This compares to price growth of 4% in the five quarters to March 2020.
"The market simply hasn't slowed down. There's high demand for family homes and with supply tight we've seen some recent deals agreed for 20% over the asking price," said Edward Douglas-Home, head of Scottish residential at Knight Frank.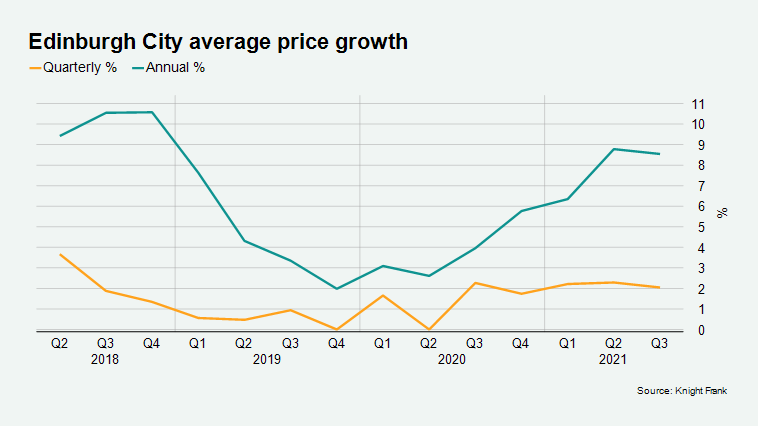 Houses continued to outperform flats in the third quarter as buyers prioritised space, with an average increase of 2.6% and 1.1% respectively. However, well-located flats are increasingly generating interest following the easing of lockdown restrictions and an increase in appetite for city centre living amongst buyers.
New prospective buyers were up by 135% in September versus the five-year average excluding 2020, and viewings increased by 102% in the same period. However, new instructions in September were down by 26% versus the five-year average, underlining the current supply to demand mismatch.
With supply tight, some prospective sellers have hesitated in listing their properties due to a lack of purchasing options, which has exacerbated the situation. The imbalance is not unique to Scotland, with low supply and high demand a characteristic of the autumn market across the UK.
Read the original post here.