Housing announcements were a little stale in the chancellor's Budget, which was packed full of big spending for hospitals and schools and focused on skills.
But, as ever, there were plenty of interesting details in the policy costings and economic forecasts issued by the Office for Budget Responsibility (OBR).
The OBR has predicted that the rate of house price growth will reach 8.6% in 2021, up from its earlier forecast of 5.1% back in March.
It has also taken a more optimistic view of 2022, expecting growth to slow next year to 3.2% rather than falling into negative figures.
Previously, it had anticipated a price fall of 1.7% next year.
After a period of more sluggish house price growth, the OBR expects house price growth to tick up to 3.5% by 2026.
In March, Knight Frank forecast UK house price growth of 5% this year and 4% next year.
The slowdown in house prices will also see the house price to earnings ratio return to pre-pandemic norms, according to the OBR.
However, it expects the annual volume of transactions to remain elevated, citing the 'race for space' as a key driver motivating higher spend on residential property, something we have explored in this analysis of residential transactions which shows more money was spent in the housing market in England and Wales in the year to March than any 12-month period since before the global financial crisis
Transactions are forecast to peak at 1.46 million by the end of the year and remain elevated above pre-pandemic norms up to 2026.
Previously, transactions fell 12% in 2020 to 1.04 million.
The OBR also expects revenue from UK property taxes, including stamp duty, to raise £14.8bn in 2021-22, an increase of £2.5bn from March's forecast. It forecasts revenue will be close to £16bn in 2022-23, compared to £12.5bn in 2019-20, boosted by transactions remaining above their pre-pandemic average.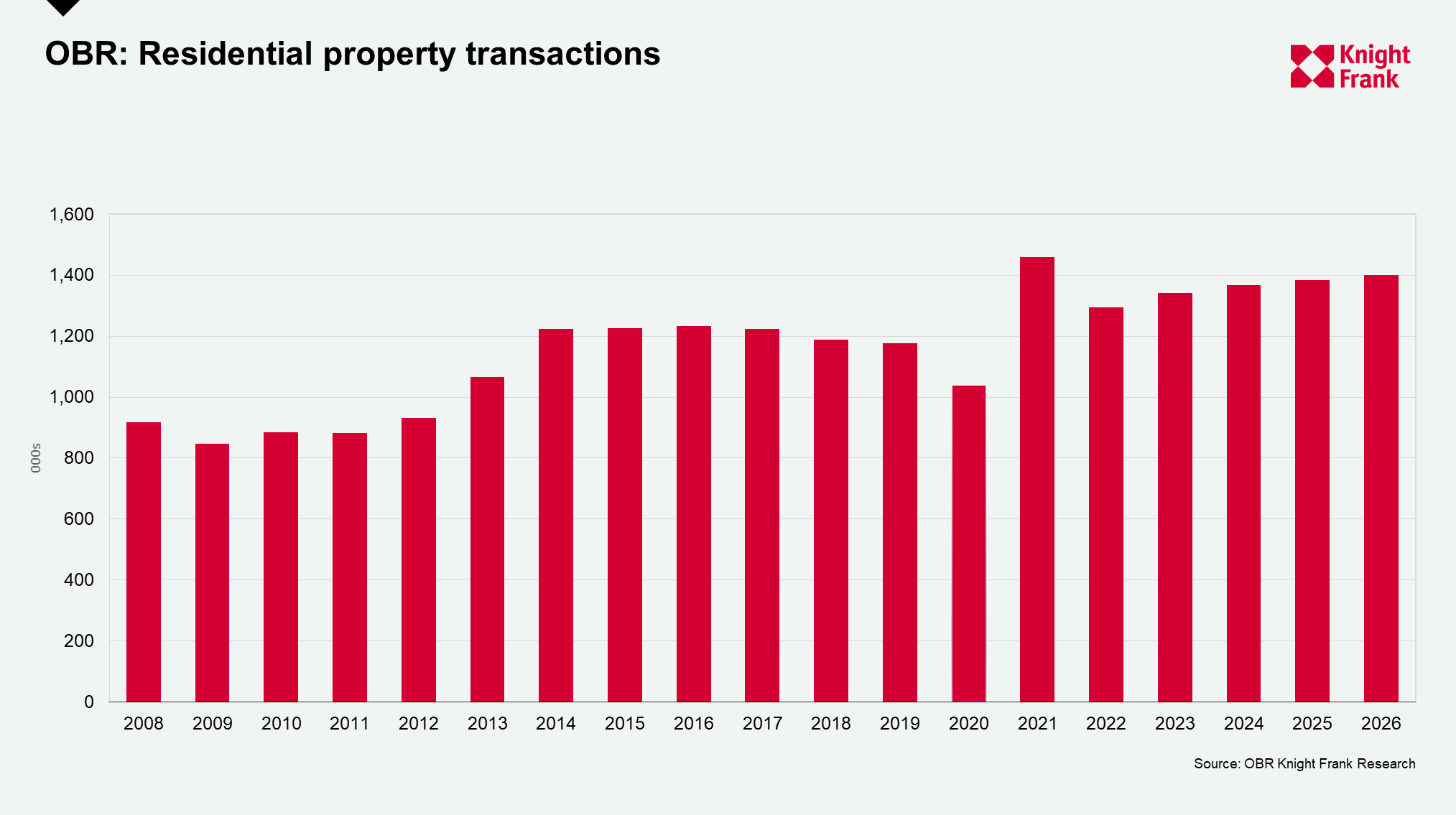 Housing targets
The only new £1bn-plus measure to boost housebuilding announced by the chancellor was confirmation of plans to use brownfield sites to build 160,000 homes.
Anything that encourages the availability of brownfield land for development of new housing is welcome, especially at a time when the structural issues relating to the housing market have never been more stark. Ensuring the right mix of housing across all tenures in all of our towns and cities is a priority.
Currently, the UK is even further behind its housebuilding targets due in part to the disruption caused by the pandemic. The OBR estimates that output fell by 17% in the 2020-21 financial year compared to the previous year, a more moderate fall than its initial prediction of a 30% drop back in March.
However, the OBR still expects overall net delivery for the whole of the UK to have peaked in 2019-20 at 293,500. This means the government will remain behind its target to hit 300,000 new homes a year for England alone for longer.